SMD series - Replaceable head drills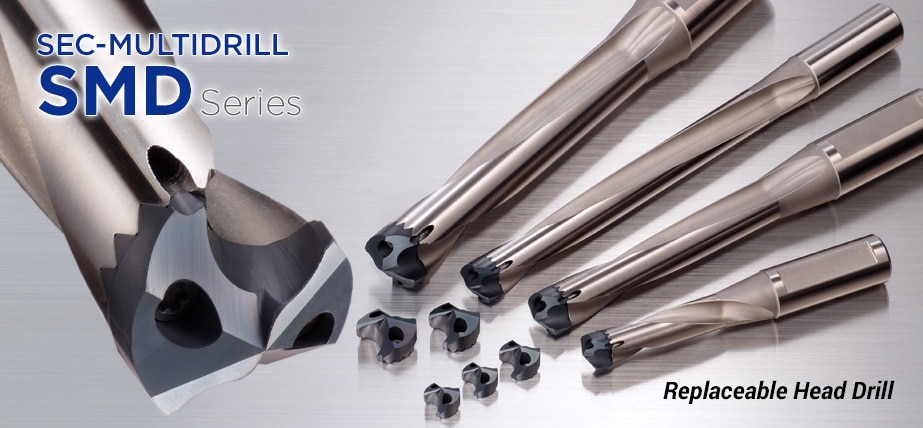 Replaceable type drill with exchangeable heads using an unique radial serration design, for high precision and strength
An exchangeable drill head provides a new cutting edge, higher productivity and cost efficiency with easy tool management. Regrinding allowance of 1.5mm to 3mm makes further tool cost reductions possible.
Stable machining of mild steel, stainless steel, etc.
● Excellent cutting edge strength
Large edge treatment is used to reduce breakage of the cutting edge.
● Stable machined hole accuracy
X Type thinning achieves excellent centring on entry and stable drilling.
● Ideal for drilling and burr control on non-flat surfaces
Can be used for high-efficiency spot facing, drilling on non-horizontal surfaces such as inclined and cylindrical surfaces, and interrupted drilling. Also reduces burrs at the hole exit.
● Improves machining stability
Achieves high rigidity by employing RS THINNING, which ensures thick web.
① Gradual Arc Shape J-Flute
Unique wide and smooth flute shape significantly improves chipcontrol and evacuation.
② Reduces peripheral edge chipping caused by flapping workpieces
Robust Substrate and Reinforced Edge Treatment
③ Excellent fracture resistance + chip control Dedicated cutting edge design
④ Directs coolant to cutting edge evenduring MQL drilling Centre Oil Hole